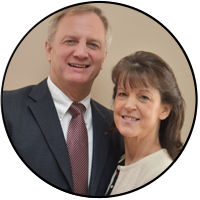 Pastor John, or Pastor "B", is the Lead Pastor of Calvary Assembly. He and his wife Jeanne have been married for over 44 years and have seven children (five biological and 2 adopted). Together, they lead and set the example for the church by their love, encouragement, and prayer. They have been at Calvary since 1988. Previous to that, they served as missionaries in Southern India for five years. Pastor B has a practical, personal, preaching style that has often been described "as if he's talking to you across the table over a cup of coffee."
Pastor Josh is our Senior Associate Pastor at Calvary Assembly. He and his wife Emily have been married 18 years and have five children. Pastor Josh & Emily lead us in congregational worship, as well as Pastor Josh is a gifted pulpit preacher and teacher, in addition to other responsibilities. They are committed to fulfilling the vision of the church: To Love God, Value People and Reach the World. They have been on staff since 2003. Pastor Josh has an upbeat preaching style in which he often employs illustrations and object lessons in his sermons.
Pastor Jim is the assistant pastor at Calvary Assembly. He and his wife Jeannette have two grown daughters. They minister in areas such as altar ministry and shut-in visitation. On staff since 2012, they continue to serve Calvary and the Lord's people. Pastor Jim is sometimes called the "singing pastor", because he often begins his sermons with a special song.
Pastor Jose is Youth Pastor at Calvary Assembly. He and his wife Kayra have been married for 17 years, and have three daughters. Pastor Jose is a credentialed minister with the Assemblies of God. Pastor Jose and his family have been involved in ministry at Calvary for several years and in 2017 took over as our official Youth Pastor. Both have a wonderful background in practical ministry, evangelism and missions, so they add great depth of ministry to our church.
Pastor Tim is technology pastor at Calvary Assembly. He holds a degree in computer technology from SE Missouri State. He is also a graduate of Master's Commission – a 3 year ministry training program. He is credentialed minister with the Assemblies of God. Tim served on staff at Bethel Assembly of God in Cape Girardeau MO as the Technical Director. In 2012 he obeyed the call to move to Newark NJ as a Missionary Associate and helped plant a church in the city. In 2016 Tim married his beautiful wife Lee-Ann. They have one son, Ezekiel.